Sweating is a miraculous thing. It regulates our body temperature and offers various health benefits you may not even be aware of. Such as detoxification, which is very important when it comes to your overall well being. Sweating flushes a variety of pollutants from your body, including cholesterol, alcohol, and certain salts. It also does a great job at banishing many other chemicals that can accumulate inside you and cause issues over time.
So if you are looking for good places to get your sweat, we've got you covered. Here are our favourite workout spots in Edmonton, Alberta, Canada.
Wolf Willow Stairs
Since we all seem to be spending more time outdoors due to the pandemic, the Wolf Willow Stairs is an excellent place to get your heart pumping and burn some calories. Not only will you feel extremely fulfilled after reaching the top, but there's also a gift waiting to reward you for all of your hard work—a spectacular waterfront lookout view.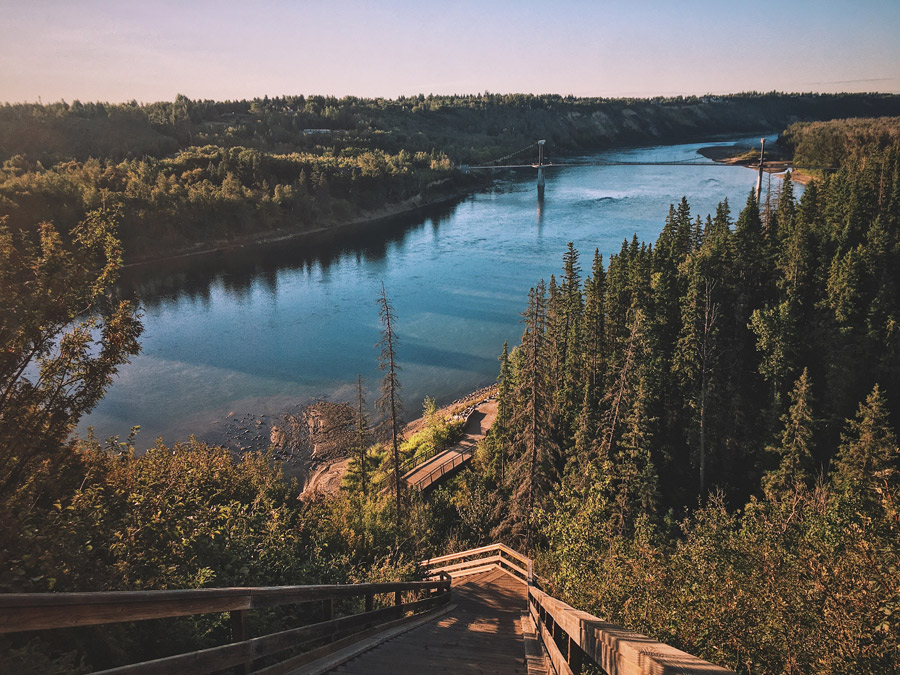 You can expect to climb about 200 steps to a height of 10 storeys. It may not sound like a whole lot, but considering how steep these stairs are, you are in for an intense leg-day. The best part is that you can enjoy this trail at any pace, go slow and enjoy being out in the sun or push yourself to get a killer workout (fans of this spot do the stairs multiple times). So bust out your iPod, play some of your favourite tunes, and be sure to bring a big bottle of ice water with you as well when you are taking on the Wolf Willow Stairs.
Jamie Platz YMCA
The Jamie Platz YMCA is the perfect place for anyone to get into shape because it offers something for everyone. They have a great selection of standard gym fare: cardio equipment, machines, and a well-stocked weight room. There's a running track around the fitness area, so you can mix up your workouts easily. They have a big selection of group classes, including strength-based, yoga, and spin. The pool is another great way to introduce variety into your workouts by swimming laps. You can even help your muscles recover with a nice soak in a hot tub.
It's also a great location to get your children motivated and involved in a fitness routine with other kids. They offer a variety of programs such as adult and youth swimming lessons, group fitness classes, personal training, adult basketball, adult pickleball, and much more.
Archetype
Archetype must be one of Edmonton's coolest, most modern fitness centres. It combines the science of high-performance with a dedicated team of trained specialists and offers a unique and elevated fitness experience. It is located in the heart of Edmonton's ICE District and is more than your average gym.
Archetype is geared towards people and athletes who have a bit more experience in the fitness industry. If you want a challenging approach to working out and you don't mind pushing yourself, or you are looking for a way to pump up your routine and take it to the next level, Archetype may be ideal for you.
Evolve Strength
This location is also made for anyone determined to push themselves and get the most out of their workout. However, instead of scattering treadmills and other typical exercise equipment you'd see at the gym, they focus on strength training and providing their members with the best equipment possible to help them achieve their goals. We love the focus on strength sports, and Evolve locations are packed with squat racks, lifting platforms (with bumper plates!), and benches.
Many of Evolve's trainers are incredibly creative. They will have you moving in ways that keep your workouts fresh and challenging. If your main focus is getting stronger, not just shedding pounds, Evolve is a great choice.
Hot Yoga at Prana Yoga Studio
Hot yoga is a great way to sweat your stress away, and Prana Yoga is the best place to do it. They have been voted the 2021 best yoga studio in Edmonton.
Their hot yoga heat room is equipped with infrared panels and a high capacity humidifier, and the temperature will be around 36°C with 40% humidity. This is a great way to expel toxins, unwanted impurities, and chemicals from your body. If it seems a bit too hot for you, you can relocate your mat towards the water wall, and if you don't think you are getting hot enough, you can move closer to the fireplace.